This year marks the second year that the Crow Summer Institute has been held at Little Big Horn College in Crow Agency, MT. With the highest attendance to date, we wanted to talk to some of the participants and instructors to get their thoughts and reflections on this year's training.
---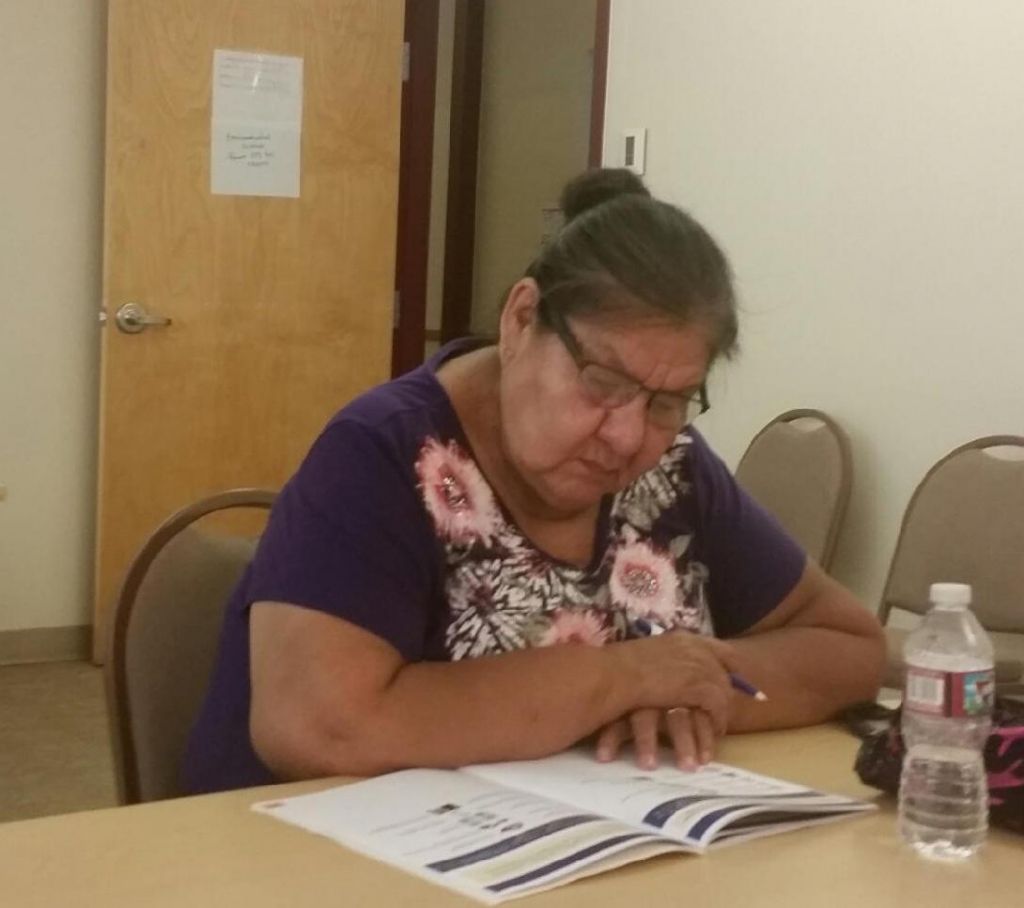 Doris Stewart Plainfeather – This is Doris' 2nd year attending the Institute; in fact, we spoke with her exactly a year ago, when she took Teaching Crow Level 1 Methods. This time, Doris is taking Crow Materials Development Level 3 with Father Randolph Graczyk.
"I am really enjoying the way Father Randolph leads the course. We are translating the new textbook from English into Crow, and he gives everyone a chance to figure out the words, write them down, and pronounce them."
Doris also shared that as a first language speaker of Crow, she is seeing the language in a different way thanks to the classes she's taken at the Institute, "I learned a lot, and I really enjoy it. I am understanding it more – all the rules and even the sounds."
Like many teachers that attend the Institute, Doris is taking these classes for her certification and is currently teaching Conversational Crow and Cultural Economics at Little Big Horn College in Crow Agency. "I like the materials, and I used the Bíiluukaalilaah! – Speak Crow! Level 1 textbook this past year in my Conversational Crow class. The students really enjoyed it because it explains everything in a simple way. It's easy to use."
Without the passion and support of teachers like Doris, the Institute would not be where it is today.
"This is my thing. I love teaching our language. And our younger generation needs to know that this language is theirs."
---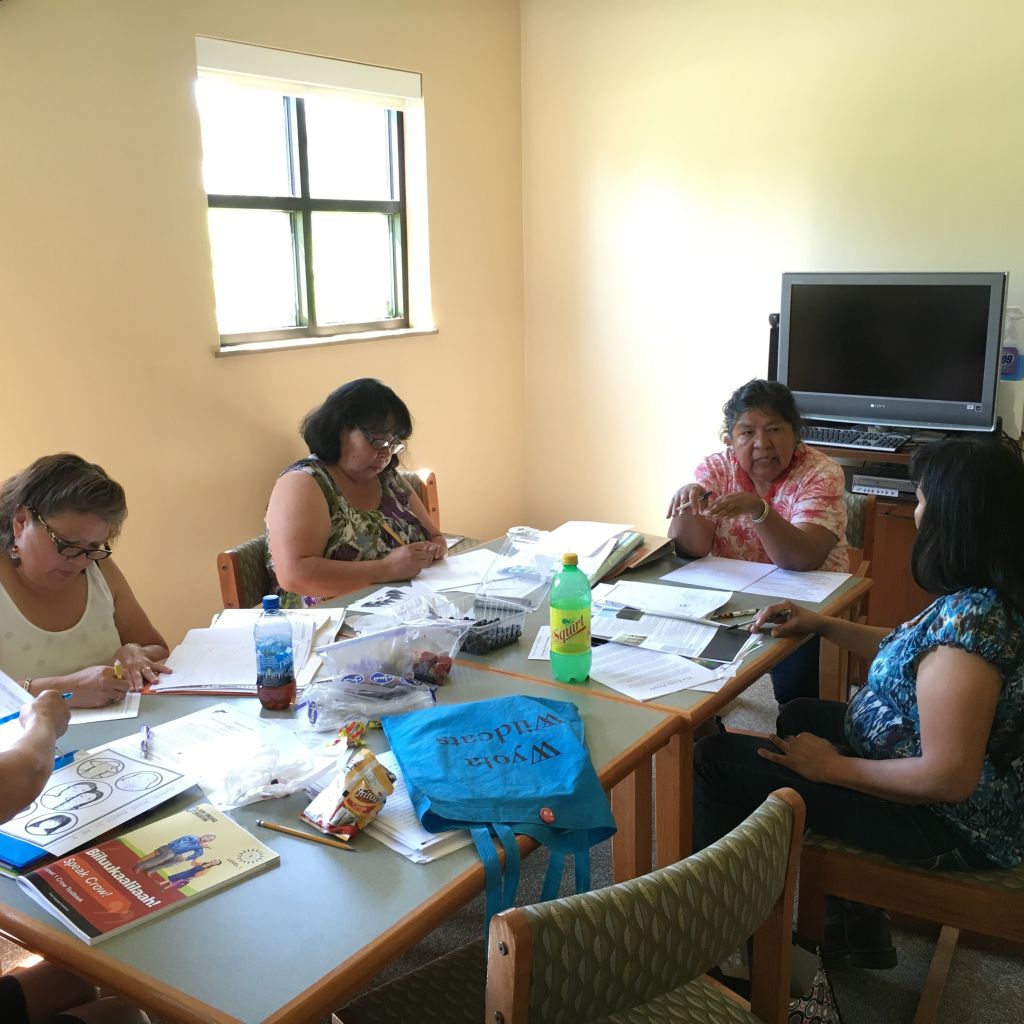 Sharon Peregoy – As our Institute has grown, we have also added new classes, including Apsáalooke Immersion Materials Development, taught for the first time this year by Sharon Peregoy. Sharon has taught a variety of Education courses at Little Big Horn College, including Crow Studies, Schools & Society, and Crow Oral Literature. In her classes, Peregoy highlights the importance of integrating knowledge and language into subject matter, "We can't decontextualize. So in my Immersion Materials Development course I tell my students that their teaching methods and curriculum development have to take a contextual approach to engage the students. It's been exciting in that what we're trying to do is identify where the need is for lessons and materials […] We are going beyond by melding language, academic and cultural concepts all together."
Peregoy shared that the atmosphere in the classrooms and at the Institute overall has been very positive and exciting.
"In talking with different teachers and students," she noted, "people are really satisfied. There is learning and discussion happening even in the hallways. There's a great openness, willingness to share and interest in discussion. Everyone is more than comfortable sharing ideas as they are trying to add on to their Crow language proficiency; there is a level of collegiality between students and teachers that adds to an evolved professionalism in teaching. I think this level of exploration is critical."
"And everyone is having fun, which is the most important thing!"
---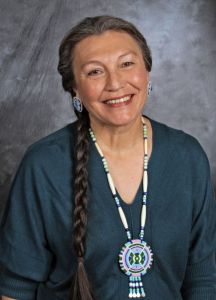 Janine Pease – The Crow Summer Institute owes much of its expansion and success to its main coordinator and the founder of Little Big Horn College. We spoke with Janine about this year's achievements, including the growing sense of professionalism among the students and teachers, leadership development, and what we can expect from the Institute in the coming years.
"The response from our community has been tremendous," shared Janine, "There is a substantial increase in enrollment and we are seeing more teachers from the community attending the classes. The students have become well-acquainted with the faculty and there is a growing sense of professionalism – they know one another from last year's Institute, and some of them have met once a month over the course of the last year. Now they come together and are benefiting from that." It seems this same growing sense of professionalism is what struck Sharon about this year's Institute.
Janine added that there is also a wealth of peer instruction that has provided a new perspective. "We've had a special ingredient with the Intensive Crow for Beginners class this year, which has brought new energy to folks in the class. There are people from outside the town and even outside the tribe, which provides a valuable perspective of a totally new student: we are looking at the challenge of moving English speakers into learning Crow."
It is not only new students that are gaining knowledge from the Institute. Janine noted that returning participants have really benefited from this year's emphasis on Crow Materials Development courses, as they put some time and creativity into exchanging thoughts on what the class produces together. The participants have something to take back to their classrooms, but the classroom is not the only place for the language.
"We're so very devoted to the development of our professional teachers. I think we've begun to develop leadership among the participants – those who are thinking about what to do outside of the classroom.  This is so important for sustaining the language movement."
In the future, Janine says that we can expect an even bigger expansion for the Institute, to accommodate the participants' growing needs and interest.
"We're thinking of adding more time to the Institute, perhaps another week of classes. We've asked students to evaluate their experience this year and we are inviting criticism and analysis as we look forward to a better and more beneficial training."